How to Use QR Codes on Table Tents in Restaurants and Bars
QR codes on table tents may seem small, but these tech tools can make a huge difference to any restaurant, bar, or other food establishment.
Based on the National Restaurant Association's February 2021 survey, 52% of consumers want to see restaurants integrate more technology to make ordering and payment systems faster.
QR codes can be the most accessible and affordable technology integration for restaurants to help them beat operating costs and staff shortages and stay afloat during tough times.
These can help restaurateurs upgrade their customers' overall experience. It's an advanced technology that can help boost business efficiency.
And with a highly reliable and professional QR code generator software, any restaurateur can prepare for the future.
How does a QR code on a table tent work?
A Quick Response (QR) code is a matrix barcode with a complex pattern comprising black and white squares. These codes can store more data types and bigger data sizes.
One only has to scan it with a smartphone camera or a QR code scanner app to access the embedded information.
You can incorporate these versatile data-containing squares on digital displays or add them to printed materials like table tents to automate access to additional information.
A table tent QR code can redirect diners to various data, such as digital menus, websites, social media links, videos, images, files, vCard, WiFi, and more.
Restaurants or businesses are just some of the ones that can benefit from QR code technology. There are various creative ways to use QR codes in different settings.
For instance, you can use table tent QR code for events so guests can access relevant information by scanning the code on their seats.
This way, your event is much more organized and smooth-sailing.

Static vs dynamic QR codes: Which should you use for your QR codes on table tents?
There are two types of QR codes: static and dynamic. Understanding their differences is essential to know which works better for your intended purpose.
Static QR code
Static QR codes are permanent. As a result, you cannot change or edit the embedded information once you've generated this QR code.
The embedded data size impacts the scannability of static QR codes; bigger data results in a more congested and denser pattern, which may take time to read.
But on the good side, these QR codes will work forever as long as the data you embedded remains active.
Dynamic QR code
On the other hand, dynamic QR codes are an editable type of QR code generated by a dynamic QR code generator. They store a short URL in their patterns instead of your actual data, and it redirects scanners to the link you've embedded.
Dynamic QR codes can also store files. When generating the QR code, the software embeds the file in the short URL's mobile-optimized landing page.
Users can then view and download the file after scanning the dynamic QR code.
This unique feature allows you to edit or change the data in the QR code whenever you'd like without making a new one, saving you extra time, effort, and money.
It's ideal for your table tent menu QR code. You only need to edit or change your QR code's destination page or embedded file to update your menu.
You can also track your dynamic QR code's scan metrics: the number of scanners, time, location, and device type used in scanning the QR code.
Its tracking feature lets you gain insights into customer engagement, helping you better understand your customers.
How to leverage QR code generator solutions: Best use cases
QR codes are versatile and flexible. With many existing QR code solutions, you can surely find a way to integrate them into your business or event.
Here's how you can best apply table tent QR codes:
1. Provide a digital menu
Use table tent QR codes to display your menu for a faster restaurant ordering system and service.
You can place them on every table to eliminate the hassle of waiting in long queues to order, especially during busy hours and peak seasons.
With advanced QR code software, you can now integrate a touchless menu with a digital menu QR code on table tents.
This cutting-edge solution allows your customers to place orders without human interaction. With a scan using their smartphones, they can instantly access your menu and place orders.
Aside from customer convenience, QR codes can also lift the unnecessary and excess workload, making it easier even if you're short on staff or employees.
2. Promote products & services
Do you have any upcoming exclusive deals, products, services, or events? Promote them using QR codes at a very low cost.
Suppose you have a new exclusive dish you'll offer next month. You can promote it using QR codes on your restaurant table tents. This way, you can directly reach your target market.
Your diners can scan the promotional QR code on the table tent and access your promotion details while waiting for their orders.
Start your QR code marketing to upgrade your promotional strategies.
3. Instant internet access
Fascinate your dine-in customers with the WiFi QR code—an innovative solution that can provide instant access to a WiFi network in just one scan.
You can place these QR codes on your table tents so customers won't have to ask for the passwords from your staff, which may be a challenge, especially for introverted customers.
Once scanned, it automatically connects their device to the Internet—no more typing passwords manually.
This way, your Internet connection is more secure since you're granting WiFi access without sharing its password, a confidential piece of data.
4. Collect customer feedback
Let your customers know you care by asking for feedback on your food, amenities, and services. This will also provide constructive criticism that will help you improve.
But instead of handing out printed forms, you can modernize your feedback collection using the Google Form QR code. Print it on your table tents and tell diners to scan it.
With this advanced solution, your customers can quickly access and complete the feedback form by scanning the QR code. They don't have to type the form's link on their browsers.
5. Boost social media presence
It's crucial for businesses today to establish an impressive and credible online presence, especially on social media. And one way to boost this is through social media QR codes.
This advanced dynamic QR code solution can store all your social media links and other URLs. Customers will find a mobile-optimized landing page with buttons for each embedded link.
This allows them to like, subscribe, or follow you on your social media profiles in one go. There is no need for them to jump from one social media platform to another.
Aside from social media, you can also level up your websites with QR codes on them. Upgrade digital marketing strategies with custom QR codes that store exclusive deals or relevant information.
6. Provide rich media content
Combining traditional and digital marketing media can be a brilliant way to innovate your marketing approach, reaching a broader and more diverse audience.
QR codes are the most suitable tool to achieve this. You can add them to your printed marketing materials so people can access more information by scanning them with their smartphones.
Create custom QR codes for videos, image slideshows, infographics, or audio for more engaging and rich media content. These will help entice people to avail of your promotions.
It's high time to level up your marketing strategies. Give your static printed marketing collaterals a digital side using QR code technology.
7. Invite diners to join your loyalty program
QR codes offer businesses innovative ways to engage customers. Companies can streamline loyalty programs and gather consumer behavior insights at the same time.
It simplifies the process of loyalty program enrollment—no need for manual registration that takes time.
Points-based loyalty program is one of the most common. Even the most popular coffeehouse company, Starbucks, has implemented them.
Members of Starbucks Rewards receive one star for every dollar spent and two stars for using a Starbucks card.
Drive customers' participation in your loyalty program by using QR codes. This QR code-based customer loyalty-building strategy allows them to register via smartphones by scanning the code.
8. Offer discounts and limited-time promos
Exclusive deals, discounts, and limited-time promos are the most common marketing tactics to boost sales. They're effective in the way that they stimulate customers' sense of urgency, which drives them to take action.
One efficient and contactless way to do this is by using QR codes. Businesses can use coupon QR codes to let customers redeem discounts and promos using their smartphones.
You can create and promote your custom coupon QR code digitally or in print. Once scanned, the code leads customers to a mobile-optimized landing page to claim discounts and other exclusive offers.
9. Run fundraisers
QR codes are also an effective tool to facilitate fundraising events. Organizers can easily create custom QR codes to direct people to a landing page where they can donate or contribute funds.
With QR codes, you can easily promote your fundraising activity. You can share them online or print them on flyers, posters, and brochures to reach more supporters in both streams.
Let your customers participate in or support a cause by promoting your QR code for the fundraising event. Once scanned, the code leads donors to a secure donation page.
Adding a QR code menu on a tablecloth
Adding QR codes to your table tents is interesting enough, but you can step this up by adding QR codes to tablecloths. Here's how it looks:
The classic Gingham pattern is perfect for printing QR codes on your tablecloth. You can replace its squares with QR codes, which makes sense since they are square-shaped.
You can also customize them by altering their colors, pattern, eyes, and frames. Remember to add your restaurant logo to make it more personalized.
And to avoid confusing your customers, you can add a table tent that tells them how to scan the QR codes on the tablecloth.
How to create QR codes for restaurant table tents in 7 easy steps
Creating QR codes is simple using QR TIGER, the most advanced QR code creator. Its user-friendly interface lets you create customized QR codes for your business in seconds.
Follow this easy guide to create a QR code for your table tent:
Go to the QR TIGER website and log in to your account.
Note: You can avail of QR TIGER's freemium plan if you don't have an account yet.
Choose your desired QR code solution.
Enter the necessary details onto the empty field.
Select Static or Dynamic QR, then click Generate QR code.
Note: We recommend using dynamic QR codes to access their advanced features.
Customize your QR code according to your preference.
Run a test scan to check if your QR code works.
Download and print the QR code on your table tents.
5 best tips to get more scans on your QR code
Integrating and creating QR codes may be easy, but the challenge lies in getting more scans. And to guarantee this, there are a few things you must consider.
Here's how you can deploy QR codes that will surely get engagement from your audiences:
1. Use a highly-developed QR code generator
Searching for the best QR code software can be challenging, especially since many options exist online.
You must test the software and explore its features and solutions to determine if they fit your needs. It's also advisable to dig into the software's security certifications like GDPR.
Also, choose a platform with an impressive customization tool so you can create the best custom QR codes with logos.
2. Create high-quality and scalable QR codes
Ensure that you generate your QR codes in high resolution so that they have high scannability, allowing people to scan the code seamlessly.
If you plan on printing huge QR codes, it's best to save your QR code image in SVG format so you can stretch or resize your QR code without compromising its quality and scannability.
3. Customize your QR code
Small details can make a significant impact. So, never underestimate the power of customized QR codes.
Transform the dull black-and-white QR codes into eye-catching ones. Give them a makeover and change their color set, patterns, eyes, and frames.
Do not forget to add a short, clear, and catchy call-to-action on your table tent QR code. This will give them an idea of what to do and expect when they scan your QR code.
4. Apply the recommended QR code format
You have all the freedom when creating custom QR codes. However, to ensure you get the most of its benefits, it's best to consider and apply the QR code best practices.
When printing QR codes for your restaurant table tents, observe the right size—not too small or too big.
They should be at least 1.2 inches (3-4 cm) to make it easier for people to scan the QR code on your table tent.
For the color, it's best that the foreground and background have contrasting colors. Use darker colors for the foreground and lighter colors for the background. Never invert these two.
The contrast will improve your QR code's readability when scanned by a smartphone.
5. Add a logo, image, or icon
Make a striking impression by adding a logo, image, or icon to your QR codes. This creates a powerful visual impact that can grab people's attention, helping you get more scans.
For businesses, adding their logos can help with brand recognition. It can also earn audiences' trust so they'd have no worries about scanning the QR code.
This technique can help people easily identify and recognize your QR code. They will be much more likely to remember it.

MENU TIGER: The best interactive menu QR code software for restaurants and bars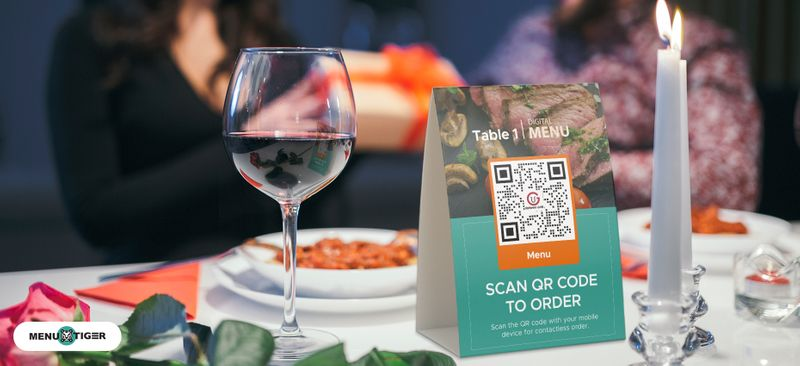 MENU TIGER is an interactive digital restaurant QR code menu software that can streamline any food establishment's operations, increase sales, and provide excellent customer service.
With MENU TIGER's customer-friendly and mobile-optimized digital menu, customers can instantly order and pay for their orders by simply scanning the menu QR code printed on table tents.
Restaurants can run promotions and use its upselling features to convert more sales. This allows you to attract more customers, increase sales and improve customer retention rate.
They can also get real-time customer feedback in the comment box on your restaurant website homepage.
Admins can also see a full revenue analysis, the most sold items, and customer feedback to help improve their restaurant's food and service.
This way, restaurateurs can extract valuable insights to make sound business decisions, optimize operations, and maximize profitability.
This can also help them identify best-selling items and which areas they need to improve and focus on more.
QR TIGER: the all-in-one QR code software for your business
Upgrade your restaurant or bar by integrating QR codes on table tents. Implementing this technology will improve your customers' overall dining experience.
Modern times call for modern, cutting-edge solutions. Catch up with today's demands with QR TIGER—the world's most advanced QR code software.
This QR code generator offers 17 QR ode solutions designed to help your business in every aspect. It also boasts an easy-to-use customization tool and other advanced and handy features.
Take your restaurants or business to greater heights with QR TIGER today. Sign up for the freemium plan to enjoy its advanced features.